EDGE: A Leadership Story


By: Bea Fields and Corey Blake with Eva Silva Travers



Edge

speaks to not only top CEO's like Mitchell James but to everyone — community leaders, parents, coaches, teachers — in leadership roles of any kind!

Edge

is a compelling narrative that highlights the engaging approaches of using vulnerability to build relationships, and creativity to stand out in the marketplace, while giving you permission to lead dynamically without losing your identity in the process. At each chapter's end readers will find interactive and thought provoking summaries and questions to help them see themselves, their colleagues, and their loved ones through fresh eyes.






Testimonial:



"After trudging through numerous books of happy-talk bilge, Edge is an arctic blast of white-hot inspiration. Fields and company confront the fears of today's leaders while blazing a trail to illustrate, educate, enlighten and inspire. We've always known Bea Fields was a bad-ass - now the rest of the world gets to benefit from her powerful work. Look for 'leadership fiction' to be a whole new genre!"




Andy Wibbels




speaker and best selling author of

Blogwild! A Guide for Small Business Blogging

For more information, visit http://edge-book.com.

---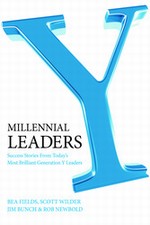 Millennial Leaders: Success Stories From Today's Most Brilliant Generation Y Leaders
By: Bea Fields, Scott Wilder, Jim Bunch and Rob Newbold



Gen Y-those individuals born after 1980-are making an indelible mark on our culture. Raised on praise and technology, they are savvier and more confident than any prior generation. Their characteristic values, like social responsibility and authenticity, drive their actions. A majority of the 78 million Gen Yers in the U.S. have entered the workforce, creating a new dynamic. Millennial Leaders presents 28 success stories from brilliant Gen Y leaders and those professionals who have studied this social phenomenon-from a 14 year-old political appointee to a finalist on "The Apprentice." Through interviews and insights, this book shows experienced leaders (i.e., Traditionalists, Baby Boomers, and Generation X) how to manage, motivate, and communicate with Gen Y, and how to best utilize their talents. The book also provides Generation Y with over 100 strategies for achieving career and personal success. Learn what turns them on and off, how to retain them as employees, and how to cultivate their natural entrepreneurism for your benefit

.



Testimonial:




"Millennial Leaders is an awesome read about energy, enthusiasm, adaptability, free creativity and blending generations. It's about the disconnect of generations and the reconnection process that is necessary to not only the young people of Gen Y, but also those who will work with them, try to mold them, and in essence grow with them. This book is a great tool for people of all ages to learn with a generation who is always learning."

Kim Madrigal
Executive Director, Boys and Girls Club of the Sandhills




For more information, visit

http://MillennialLeaders.com.